Conference opening receptions are a perfect opportunity for guests to meet and greet each other before the meetings officially kick off. In this casual setting, participants can get to know each other, get a feel for the venue, and even get a taste for the host city. With more and more people working remotely, an opening reception can also offer a face to face networking opportunity for colleagues who may not see each other at the office. Here are some tips to set your conference reception above the rest.
Make it an Event with a Theme
A theme helps pull an event together, sets the tone for the evening and can help break down networking barriers. One of our favorite themes is our Casino Night. Guests can mix and mingle as they place bets at the craps table or chat over a hand of poker. Our dealers teach people the basics if they need a helping hand. No money is actually exchanged, so people can lay it all on the line!
If you are hosting your conference in Chicago and have out of town visitors, they might enjoy our Chicago-centric theme Windy City Welcome. Harry Caray, the Blooz Brothers and other notorious characters entertain your guests while they nosh on deep dish pizza and Chicago style hotdogs. Add a piano player to the mix for some sing alongs and you are guaranteed to knock this party out of the park…Wrigley, that is!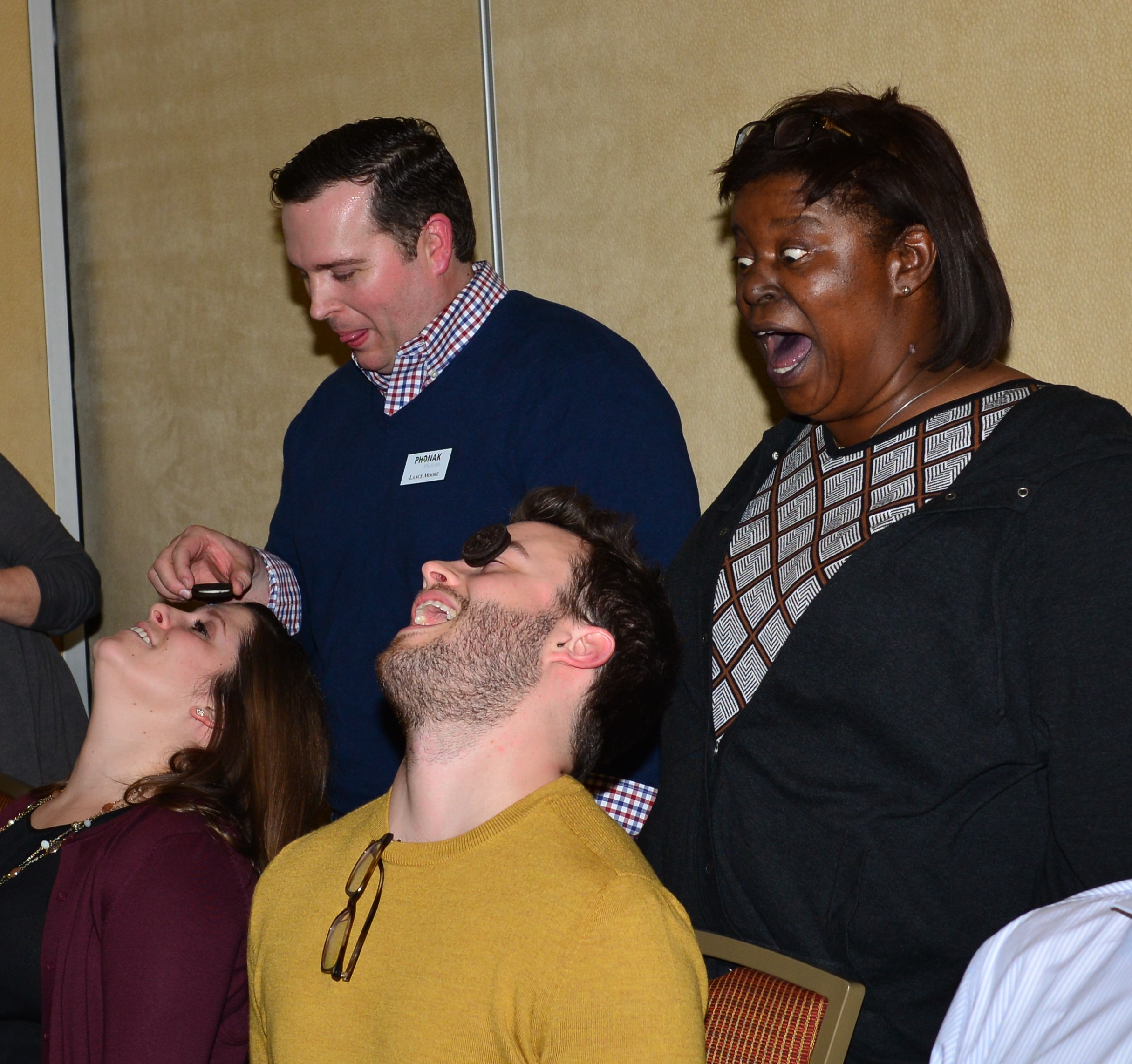 In it to Win It: Game Stations are always a hit with our guests. People love competition – either participating themselves or watching their colleagues. The more ridiculous the game, the more fun people have! Your guests will have a good time trying to beat the clock as they wiggle a cookie from their forehead into their mouth using only their facial muscles or sort Skittles by sucking each candy with a straw and dropping them into separate cups. Each challenge is sixty seconds long and creates a lot of laughter.
Grab their Attention with a Unique Invitation
An invitation is their first impression, so you want something that reflects your theme. You have an opportunity to catch people's attention with a clever idea that may increase excitement for your kick off party.
• Video Invitation – Create a short script and include the pertinent information for the Opening Party including the location, date and time. Dress up in a costume and use some props to grab your guests' attention. Be brief! A minute or two should be plenty of time for your message. For easy video instructions and a good looking finished product, you can try Inviter.

• Email Invitations with Movement – We like Punchbowl for the movement that the invitations have. When you send an invitation via email through Punchbowl, the recipient receives an "envelope" that moves once you click on it. The invitation pops out of the envelope with the details of the event. There are many different theme choices and you can browse their pinterest pages for theme decorations, food recipes and drink specialties for more inspiration.
• FedEx their invitation. This is a pricier option, but it definitely makes your invitation stand out.
If you are going to make an investment in a welcome reception, consider the invitation as part of your marketing expenses, like the ones you spend on themarketingheaven.com. They might be a little expensive but are worth the outcome which they provide. A dramatic invitation that will have your guests sending in their RSVPs tout de suite.
Announcement Board – Social Media Style – Before, During & After
Twitter hashtags are great tools for any conference, especially for an opening reception. Keep the hashtag short, make sure it isn't already used, and consider using the same one from year to year. Following are ideas for how to use your conference hashtag before, during and after your kickoff event.
Before: Share the hashtag often and post it prominently on the event page of your website prior to the event. Begin the conversation with the conference opening reception details. To encourage participation, use the hashtag to distribute secret passwords for special access to the event or to win a prize.
During: No doubt guests will have phones in hand as they mix and mingle with other attendees. Event organizers can send notifications throughout the party using the dedicated hashtag, updating their guests on when the entertainment starts or where they can find the shortest line to the bar. The key is to engage your guests so ask them questions and encourage them to continue the conversation.
After: Continue to use the same hashtag throughout the conference and after the event is over. Track who used the hashtag and notify them as preparations begin for the next year's event. By doing a simple search of the event hashtag, you can find the handles that used it.
1. Create a list for the event then add those users by clicking on their handle
2. Click the gear icon
3. Click add/remove from lists.
4. Finally, click on the list name and the user will be added.
If you want to tweet directly to previous attendees, your Twitter list is one of the best ways to do that.
Parting Gifts
Give aways that are easily portable and useful tend to be favorites for most attendees. Here are some ideas for gifts that they will want to take home:
• Mobile chargers are small and useful. An added bonus is that the chargers themselves can help attendees stay engaged throughout the conference as their devices won't lose their charge.
• Compact umbrellas that can be tucked into briefcases, purses and car glove compartments are another handy item.
• T-shirts may not be the most unique give away, but people will wear them especially if they have a unique design. If you want to make them special, set up a t-shirt making station and invite guests to make their own.
Whatever your give away, be careful not to overdo your branding or else people won't use it. Keep your self-promotion clever and tasteful. Think about how you can incorporate your give away into your theme. For example, a give away for a Chicago themed event could be an umbrella with the Chicago Skyline on it, or a customized deck of cards for a Casino Night giveaway.
There are a lot of details in planning a successful conference opening reception. If you want assistance with creative theme ideas and execution, we are here to help.
Contact us!
Corporate Event Interactive
312-540-1000